NIKOLAY MOROZOV - VYACHESLAV ILYIN
(Laid-up since December 2011)


POSITION AIS

HISTORY and ACTUALITY
HISTOIRE et ACTUALITÉ

The NIKOLAY MOROZOV built by Vyborg Shipyard JSC, yard N° 702, IMO 7337725 and callsign UNDX, enters service in March 1973 into the fleet of the "Azov Shipping Company" with Zhdanov as home port. She is flying the red USSR flag.
In 1989, her home port becomes Mariupol, because the city finds back her original name.
In 1992, Ukraine regains its independence. The NIKOLAY MOROZOV flies the yellow and blue Ukrainian flag, becomes the property of the Ukrainian government, but she is still chartered by the "Azov Shipping Company", now privatized.
In 2004, because of the bankrupt of the Azov shipping company, the NIKOLAY MOROZOV is laid-up in the port of Nikolayev. In compliance with the technical exploitation commission of Azov Shipping Company she must be written off and sold for scrap metal.
But due to efforts of the former director of the yard, the vessel is won over and tugged to the Azov Shiprepair Yard.
Repairs start in 2004, but most intensively it is executed the last half a year of 2005. Every day, about 150 persons work onboard; About 250 tons of hull steel structures is changed, main engine is renewed for 70%, auxiliary engines is repaired. Other repair works are performed as well : centering of tail-shaft, renewal of ship systems, installation of winches, etc. So, on completion of major overhaul and renovation, the vessel obtains documents of Classification Society and is ready to be back in operation.
Renamed VYACHESLAV ILYIN in honour of the former director of the yard who saved her, the vessel is launched on February 20, 2006 as if she was a new ship. The freighter joins the fleet of the CFD (Commercial Fleet of Donbass). Her new callsign is UZHD.
From 2011, the CFD knows severe financial problems. The VYACHESLAV ILYIN is laid-up in the port of Mariupol since December 2011.

Le NIKOLAY MOROZOV, construit par les chantiers Vyborg Shipyard JSC, unité N° 702, IMO 7337725 et indicatif d'appel UNDX, entre en service en mars 1973 dans la flotte de la compagnie Azov Shipping Company avec Jdanov comme port d'attache. Il navigue sous la bannière rouge de URSS.
En 1989, son port d'attache devient Marioupol puisque la ville a retrouvé son nom d'origine.
En 1992, l'Ukraine a repris son indépendance, le NIKOLAY MOROZOV passe sous le pavillon jaune et bleu de l'Ukraine et devient la propriété du gouvernement ukrainien. Il est toujours géré par la compagnie AZOV, privatisée.
En 2004, la compagnie AZOV est en faillite, le cargo est désarmé dans le port de Nikolaïev. Conformément à la commission technique d'exploitation de l'Azov Shipping Company il doit être vendu à la ferraille pour amortir les dettes. Mais grâce aux efforts de l'ancien directeur des chantiers, le navire est sauvé puis remorqué jusqu'au chantier "Azov Shipyard" de Marioupol . Les réparations commencent en 2004 mais les plus intensives sont réalisées les six derniers mois de l'année 2005. Chaque jour, 150 personnes travaillent à bord, des spécialistes de chaque département. Environ 205 tonnes de la structure de la coque sont changées, la machine est rénovée à 70%, le moteur auxiliaire est réparé. D'autres travaux de réparation sont également effectués : centrage de l'arbre d'hélice, renouvellement de divers systèmes, installation de treuils, etc... Ainsi, à l'issue des révisions et des rénovations, le navire obtient les documents de la société de classification et est à nouveau prêt pour entrer en opération. Rebaptisé VYACHESLAV ILYIN en l'honeur de l'ancien directeur des chantiers navals qui l'a sauvé, le navire est lancé le 20 février 2006 tel un navire neuf et est pris en charge par la compagnie CFD (Commercial Fleet of Donbass). Son nouvel indicatif est UZHD.
Depuis 2011, la société CFD connaît des problèmes financiers et le VYACHESLAV ILYIN est désarmé dans le port de Marioupol depuis décembre 2011.
Built in 03/1973
IMO : 7337725
Callsign : UNDX
Length (OA) : 136.81 - Beam : 17.84
DWT : 8455 - Gross : 6635
Speed : 16.50
Gears : Derrick : 2x40T/2x20T
1973 - 1992
Azov Shipping Company
Flag : USSR


1992 - 2004
Azov Shipping Company
Flag : Ukraine

Laid up at Nikolaev Shiprepair then Azov Shipyard : 2004 - 2006


2006 - ????
Owner : UKRAINE GOVT, Kiev UKRAINE
Ship manager: SRZ CO LTD Address : 2, Prospekt Admirala Lunina, Mariupol UKRAINE
http://www.asrz.com.ua
Call Sign: UZHD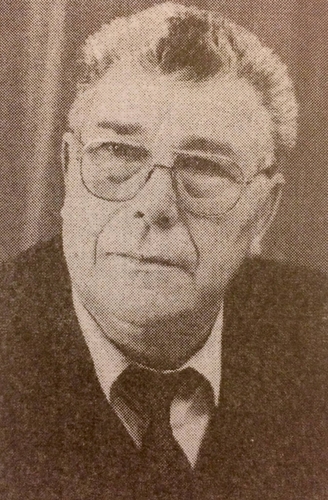 Vyacheslav Ilyin, former director of the Azov Shipyard

Flag :

Ukraine
(In service - Laid up in Mariupol since December 2011)