HISTORY
HISTOIRE

First of the three RAZLIV built by Vyborg Shipyard JSC, the PETR STAROSTIN, yard N°712, launched in July 1977,enters service into the fleet of the Black Sea Shipping Company (BLASCO). Her home port is Odessa, her IMO is 7730082 and her callsign is EKVU. She sails under the soviet flag.
In 1992, Ukraine regains its indepencence, so, she takes the Ukrainian flag, but remains chartered by the BLASCO, now privatized.


In 1998 she takes the name KARPATY and is now flying the Saint Vincent and Grenadines flag, with Kingstown as home port. She is still operated by an Ukrainian company, the Ocean Passage Maritime company, localized in Odessa, also owner of the vessel. Her new callsign is J8UA7.


In 2000, she becomes the property of a new Ukrainian company, the Chelston Shipping, and she is operated by the Strongtec System company, which the Chelston is a subsidiary. Her new name is SEA WAVE, she is flying the Georgian flag and her new callsign is 4LIH

This is under this last name, the vessel is sold to be broken up in Alang. She is reported beached on 13-11-2003.

Premier des trois RAZLIV construits par Vyborg Shipyard JSC, le PETR STAROSTIN, unité N°712, lancé en juillet 1977, entre en service dans la flotte de la compagnie Black Sea Shipping Company (BLASCO). Son port d'attache est Odessa, son IMO 7730082 et son indicatif d'appel EKVU. Il navigue sous le pavillon soviétique.
En 1992, l'Ukraine reprend son indépendance, il passe donc sous pavillon ukrainien, reste toujours géré par la BLASCO, privatisée.
En 1998, il prend le nom de KARPATY et passe sous pavillon de Saint Vincent et des Grenadines avec Kingstown comme port d'attache. Il est cependant toujours affrété par une société ukrainienne, la compagnie Ocean Passage Maritime, basée à Odessa qui en est également propriétaire. Son nouvel indicatif est J8UA7.
En 2000, il devient la propriété de la société ukrainienne Chelston Shipping et est géré par la compagnie Strongtec System dont la Chelston est une filiale. Il passe alors sous pavillon géorgien et est renommé SEA WAVE avec 4LIH comme nouvel indicatif.

C'est sous cette ultime identité qu'il est vendu aux ferrailleurs indiens d'Alang. Il est reporté beaché le 13-11-2003.
Built in 07/1977.
IMO : 7730082
Length (OA) : 136.81 - Beam : 17.84
DWT : 8540 - Gross : 6601
Speed : 16.50
Gears : Derrick : 2x40T/2x20T

1977 - 1998
Black Sea Shipping Company (USSR - Ukraine)


1998 - 2000
Ocean Passage Marit Corp

KARPATY

2000 - 2003
Last Ship Manager : Strongtec System (Ukraine)
Last owner : Chelston Shipping (Ukraine)



Flag :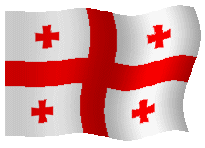 Georgia
(Broken up in Alang on 13/11/2003)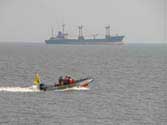 Small picture of the Sea Wave sadly arriving in Alang on 12/11/2003 (From the Greenpeace Weblog)